The Illustrated History of East Grinstead by Wallace Hills (1906)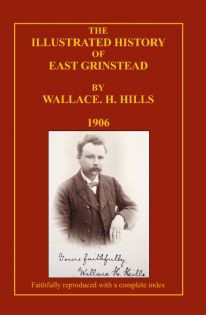 Wallace Hills wrote The History of East Grinstead in 1906, he wanted to publish a second illustrated edition in 1907 and commissioned photographs from Arthur Harding to be included. Wallace selected 133 illustrations but the first edition failed to sell out, so only a few sets of the illustrations were separately bound to accompany the first edition. His book was popular, and even today is a valuable source of information on the history of the town.
This volume is a faithful reproduction of his text along with the illustrations that provide a view of the town from over a century ago. As such, this is the Second Edition that Wallace Hills never published. A complete index has also been added to help the modern reader.
It is wonderfully bound as a hardback book with over 500 pages.
It is priced at £30, use the contact us button, or purchase from The Bookshop, High Street, East Grinstead. 
To celebrate 150 years since the dedication of St John's Church in Felbridge, we have published a fully illustrated colour book.
It is priced at £8 + P&P
A5 80pp fully illustrated in colour
To celebrate the Tri-centenary of the Evelyn Chestnut trees in Felbridge there were two books published in 2014.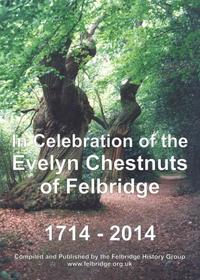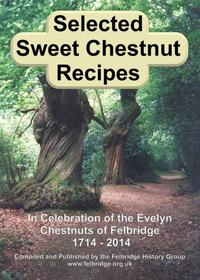 The first book is about Sweet Chestnut trees in general and then the history of our avenues of trees.
It is priced at £5 + P&P
A5 44pp fully illustrated in colour
The second book is a selection of over 120 recipes using Sweet Chestnuts. They are collated into starters, soups, main dishes, stuffing, sauces, vegetables, desserts, cakes & breads.
It is priced at £6.50 + P&P
A5 68pp fully illustrated in colour
'Felbridge Then and Now' a collection of 26 old views of the Felbridge area along with the same view today. This book provides an insight into how much or how little has visually changed within the last 100 years. 
Available now (contact us) priced at £5.95 + P&P.
Millenium Felbridge Parish and People Booklet.
Price £2.50 + p&p. 56 pages including 20 photographs.
1st Felbridge (St. John's) Guides Golden Jubilee 1950-2000
Price £2.50 + p&p. 42 pages including 17 photographs.
Transcritions of the 1748 Bourd map of the Felbridge estate, these show field names and locations of properties. £3 +P&P.
Gulledge Estate 1841 Map £5 +P&P.
Tiltwood Estate 1921 Map £3 +P&P.
Hophurst Estate 1841 Map £3 +P&P.
Felbridge Estate Sale Plan 1856 £5 +P&P
Felbridge Estate Sale Plan 1911 £4 +P&P